Hitchner, Pratt and Fishman – A Consensus View – Q&A Guide to Financial Valuation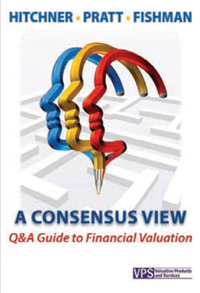 In this guide, Hitchner, Pratt, and Fishman answer the most important business valuation questions they've been asked over the years. This 350 page Guide offers a consensus view and expert guidance on important issues covered in 150+ BV questions and answers.
The book is available in hardback and in digital format.
The Q&A Guide includes:
Chapter 1 Income Approach
Chapter 2 Cost of Capital/Rates of Return
Chapter 3 Discounts and Premiums
Chapter 4 Business Valuation Standards and Ethics
Be sure to click here to read an excerpt from this new guide.
You may purchase the hardcover book or the searchable PDF version for $199 each, or save $149 and pay $249 for both versions. Contact Janet Kern (609) 289-8341 with any questions about processing your order.