Financial Valuation and Litigation Expert

Thanks for your interest in the Financial Valuation and Litigation Expert Journal.
VPS has been publishing FVLE for almost 15 years, and it is ready for a refresh.  Our managing editor, Karen Warner, is retiring, so we are using this transition to streamline FVLE and narrow its focus.  Starting this fall, FVLE will become a monthly with a new title, Hardball with Hitchner: Tough Issues – Clear Answers.  
Jim Hitchner says "As a business valuation educator, I am passionate about continuing to share my knowledge in this new format with those of you who value my opinion. I will update you on the latest developments in the valuation profession, always in a straightforward manner."
We are also changing the pricing for this shorter, more frequent publication.  Starting in January 2021, the annual digital subscription price for Hardball with Hitchner will be $79, but for the remainder of 2020, you can subscribe for $49 and get a free "Covid-19 Resource Bundle."
Check back soon for subscription sign up.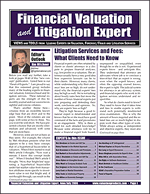 Get a free issue of FVLE.