Dunn on Damages:  THE ECONOMIC DAMAGES REPORT FOR LITIGATORS AND EXPERTS
Click Here for past issues of the Dunn on Damages Journal.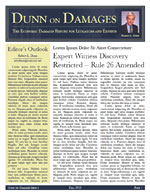 This one-of-a-kind litigation journal was published quarterly and is a must-read for attorneys, CPAs, economic damages experts, and business appraisers. The editor in chief is noted author and attorney Robert Dunn, who has written Recovery of Damages for Lost Profits (sixth edition), Recovery of Damages for Fraud (third edition), and Winning with Expert Witnesses in Commercial Litigation.
Joining Bob to write for this premier publication is a noted panel of experts including Bob Schubert, Bob Lloyd, Bill Norman, Michael Kaplan, Ralph Summerford, Michael Ueltzen, Richard Wise, Michael Wagner, Everett Harry, Jim Hitchner, Marcie Bour, Darrell Dorrell, Brian Brinig, Vince O'Brien and Mike Crain.
"This stellar panel of attorneys and financial experts is from all areas in which economic damages are claimed. Together we will fill what I believe is a void in the economic damages area: in-depth analysis, practical advice, and commentary on important and controversial subjects. This new publication will give our readers information that goes far beyond what can be included in my book, Recovery of Damages for Lost Profits. We will draw from the law the practical applications that are crucial for litigators and experts alike. We will look for implications for litigators and experts that may not be apparent and that others have overlooked. We will also emphasize current developments and current hot issues in economic damages." Bob Dunn, Editor in Chief, Dunn on Damages – The Economic Damages Report for Litigators and Experts
Articles include case law analysis, regulatory reviews, expert witness topics, lost profits damages techniques, testimony and courtroom tips, and much more. Content is focused on litigation, damages, testimony, and forensics issues.
Click Here for past issues of the Dunn on Damages Journal.